Old Fashioned Eastern Shore Christmas Dinner

...an annual tradition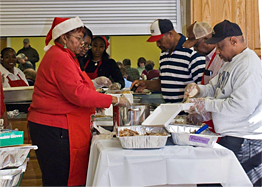 Smell the turkey cooking? Then head over to Union United Methodist Church for an Old Fashioned Eastern Shore Christmas Dinner. You'll get such favorites as turkey with all the trimmings, baked ham and the classic dish of Maryland fried oysters. Lots of homemade side dishes and desserts round out the menu. Whether you eat your meal at the church or order carryout, you will surely enjoy this classic feast.
Date:
Time:
Place:


Price:


Phone:
Tickets:
Saturday, Dec. 8, 2012
11am - 3pm or until sold out
Union United Methodist Church Parish Hall, Fremont Street and Railroad Avenue
$15.00 per person; no reservations needed unless group is more than 20
410-745-2557
At the door
Sliced Roast Turkey with Trimmings
Baked Ham
Maryland Fried Oysters
Creamy Cole Slaw
Coffee, Fruit Punch
Baked Macaroni and Cheese


Blue Lake Green Beans
Candied Sweet Potatoes
Dinner Rolls
Assorted Desserts

Photos throughout this website provided by Tidewater Camera Club and other contributing photographers.