Old Fashioned Eastern Shore Christmas Dinner
an annual tradition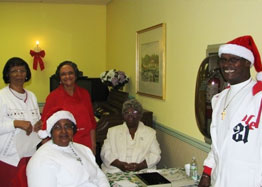 The turkey is roasting!! Head over to Union United Methodist Church for an Old Fashioned Eastern Shore Christmas Dinner. Culinary skill, combined with a love of cooking, camaraderie, and friendship presents a traditional holiday dinner as you've not ever experienced. Lots of homemade side dishes and desserts complete the menu. Whether you eat your meal at the parish hall or order carryout, you will surely enjoy this classic, "over the top" feast.
Date:
Saturday, Dec. 9, 2017
Time:
11am - 3pm or until sold out
Place:
Union United Methodist Church Parish Hall, 100 Fremont Street
Price:
$20.00 per person; no reservations needed unless group is more than 20
Phone:
410-745-2557
Tickets:
At the door
Menu:
Sliced Roast Turkey with Trimmings
Baked Macaroni and Cheese
Baked Ham
Blue Lake Green Beans
Maryland Fried Oysters
Candied Sweet Potatoes
Creamy Cole Slaw
Dinner Rolls
Coffee, Fruit Punch
Assorted Desserts

---
St. Luke's Church Holiday Breakfast
for community & visitors alike
Date:
Saturday, Dec. 9, 2017
Time:
7:30am - 11:30am
Place:
St. Luke's United Methodist Church, 304 S. Talbot Street
Tickets:
At the door
Menu:
Fresh eggs made to order
Toast (white, wheat, rye)
Bacon, Sausage or Ham
Home Fries
Steel Cut Oatmeal
Chipped Beef on Toast
Pancakes
French Toast
Fresh Fruit
Fruit Smoothies
Orange Juice
Coffee (caf and decaf)
Hot Chocolate
Unlimited Amount of God's Love!